Interculturality and Performance: Creative Expression and Mutual Understanding in the Maghreb
Mairi O'Gorman, June 30, 2021
MADAR's second webinar was an exploration of the theme "Interculturality and Performance."
Interculturality and Performance banner.png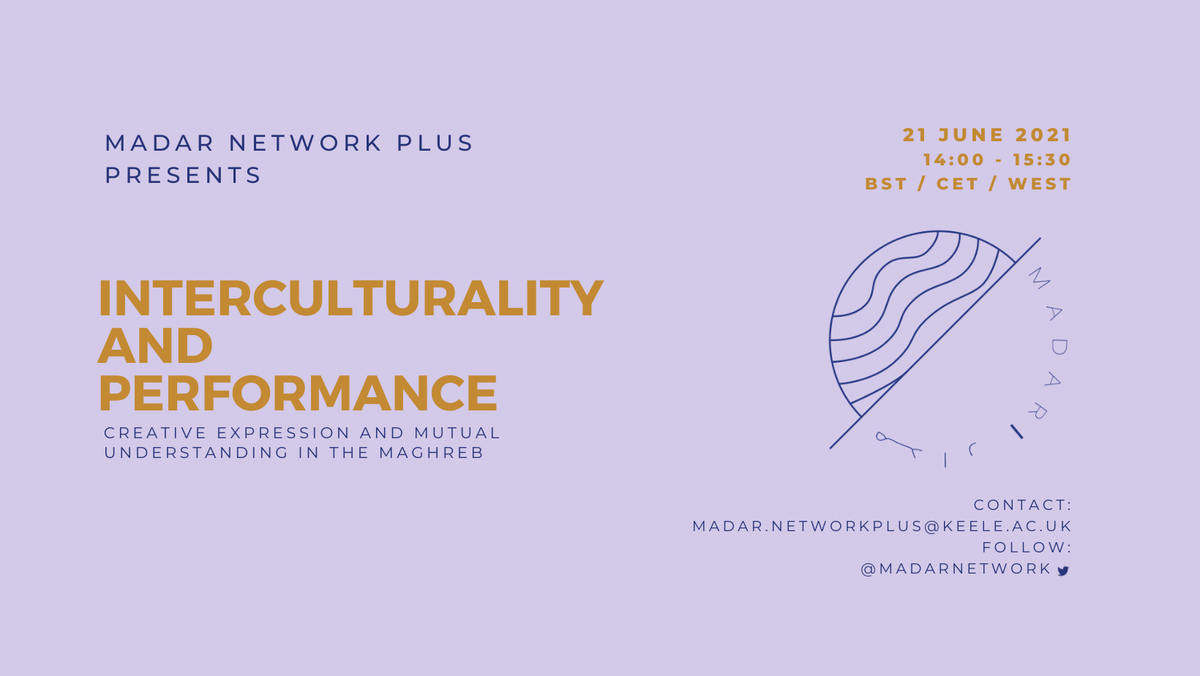 MADAR has launched a new series of webinars which aim to explore issues related to displacement, protection, and the work that we and our partners do across the Maghreb. These events are open to the public and we seek to address a wide variety of audiences, both through the events and here, on our blog.
MADAR's second webinar was an exploration of the theme "Interculturality and Performance." To follow on from World Refugee Day on June 20th, and to celebrate World Music Day on June 21st, we wanted to bring together a panel who could explore how performance can contribute to positive change for refugees, migrants, and society. Above all the webinar was an opportunity to hear about the learning experiences, challenges and examples of best practice from our speakers.
The panel was chaired by Olfa Arfaoui, an award-winning Tunisian film producer, and women's initiatives expert, who is also a valued member of the core MADAR team. The speakers were:
Marouane Hassine, co-founder and cultural project manager of the Orchid Association
Mohamed Benslama, entrepreneur, musician, teacher of cinema in the School of Art in Tunisia, and founder of several networks in the cultural field, including La Fabrique Art Studio and Our Culture First. Mohamed is also a member of MADAR. · Houari Bouchenak is a photographer, and member and co-founder of the Collectif 220 (more information about each speaker can be found on the event page). The webinar opened with a clip of Ruben Odoi, musician and performer, by Arts for Advocacy, a GCRF-funded project focused on arts-based approaches to displacement and migration.
The discussion began with a few framing remarks by Olfa, who clarified that for MADAR the topic of interculturality and performance is important, not only for facilitating understanding of specific cultures, but also to foster human values like respect and tolerance.
Next, Marouane presented an overview of his own work, rooted in capacity building for young people via art, music, and theatre. He emphasised that the performing arts can build relationships between marginalised youth, and support their soft skills. At the same time, the central challenge was one of cultural policy in Morocco, and communicating the importance of Orchid Association's work to governmental actors. One strategy he suggested was utilising cultural landmarks as a stage for performances, reinforcing the relationship between cultural heritage and the arts.
Credit: Marouane Hassine. Co- founder Orchid Association.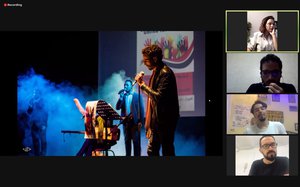 Olfa asked how, in the absence of cultural policies, Orchid Association was able to create opportunities for young people from host countries as well as those who are migrants. Marouane responded that simply using the arts as a channel for communication between young people opens doors and allows acceptance across differences (whether cultural, religious or otherwise).
Houari's presentation drew on André Aciman's writing on exile – particularly the question of whether being an exile ever really goes away – to contextualise the work of Collectif 220. He spoke of his own series of images, Erase, which depicted North African migrants in Arles, who appeared to want to make themselves invisible within their environment. There was a performance aspect here, as exhibition visitors were invited to crumple up images of the subjects, as "when we want to give someone something positive, we sometimes exclude them."
In the same context, he discussed the work of Abdo Shanan, a Sudanese photographer based in Libya who returned to his family's home in Algeria, and who remarked that he sometimes could not
tell the difference between a migrant and a refugee. The shared aspects of the experience of being uprooted made Algeria a place of remembering. Adel Abdessemed's performance art and installations allow a way for the artist to express his feelings about how migrants are treated by host societies in a way that is visceral, and allows the audience to feel the same sense of horror.
Mohamed introduced Notre Culture D'Abord and the work that the organisation has done in addressing profound issues in Tunisia via the arts. Initially, there was less of a focus on the aesthetic and more on using art for action, to intervene in public space. In 2017, NCD began to focus more on the aesthetic side of art and performance. Founding La Fabrique Art Studio, a youth-led inclusive network of committed creative artists and activists, was a direct response to artist's needs; Mohamed said there was no need, in this sense, to seek out social problems and challenges. Rather, through working with young people in the urban culture of Tunisia, these naturally entered into the work. La Fabrique's studio is not far from a church, and as the space is available for rehearsals, it has hosted communities from Cameroon, Gabon, Congo, Benin, and more. The policy is to give communities an artistic welcome more than a social one. La Fabrique has been able to maintain good relationships with the LGBTQ community, to host religious meetings, and to accommodate a great deal of diversity.
During the Q&A session, the panel addressed the question of how cultural activities can minimise aggression towards vulnerable people. Marouane made the point that culture, as communication, lessens vulnerability and isolation. Mohamed emphasised the importance, not only of breaking stereotypes, but of creating employment opportunities. In discussing the challenges of working through performance and the arts, Houari said that the core of the arts is the human being, and finding a language through which understanding can be reached. The panel agreed that it is also necessary to sensitise young people to difference through education in the arts, and to allow those who would otherwise not have access more opportunities.
The webinar closed with a performance from La Fabrique Art Studio, "D'BARA- دبارة" , which was produced by a group of young Tunisians who showcased the enormous potential of a creative youth combining various artistic expressions, namely dance, music, graffiti and urban sports.
**
We hope you will join us for more webinars in the future! Our next event, on 29th July 2021, will be on theme of "Gendered vulnerabilities" in the migration journey. We'll be recapping each event via the blog, and encourage you to follow our social media accounts for more information about upcoming webinars and events.
July 29, 2021, 2:09 p.m.